For over forty years SPD has been designing and manufacturing electro-permanent magnetic applications
for all sectors of mechanical and non mechanical processing,
always proposing the most suitable solutions for the needs of the companies.
WHAT IS PERMANENT ELECTROMAGNETISM?
The electro-permanent magnetic system, which is widely used in SPD devices, has been tested and appreciated for its reliability and efficiency. Generating a measurable and constant magnetic force, and requiring electricity only at the time of magnetisation and demagnetisation, it is perfect for clamping, moving and lifting ferrous objects. This ensures that time, energy and environmental resources are saved.
HOW DOES IT WORK?
Electro-Permanent systems use the ability to control permanent magnetic fluxes by electrical excitation, in order to activate or deactivate high forces of attraction, on ferromagnetic work-pieces, safely and permanently over time. Based on the limited use of clean and easily available energy (electricity) and the absence ofinternal mechanical parts subject to wear, the system guarantees low operating and maintenance costs.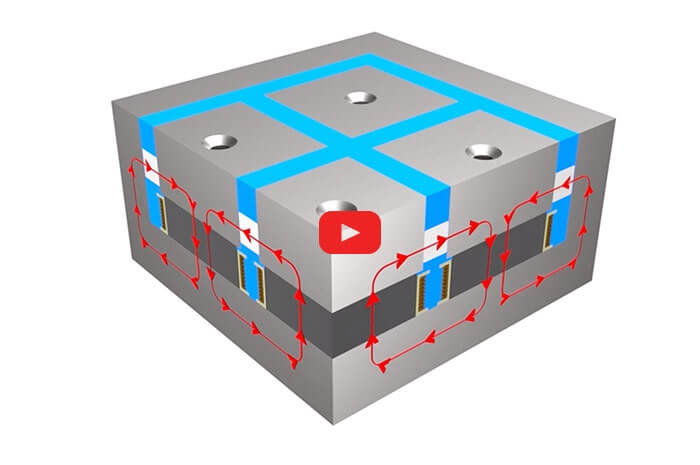 WHY CHOOSE PERMANENT ELECTROMAGNETISM:
NO ENERGY WASTAGE
Electricity is only needed during the magnetisation and demagnetisation phase, which lasts a few seconds.
A GUARANTEE OF SAFETY AND RELIABILITY
No problem in case of power failure, magnetism is an inexhaustible source of energy.
MAGNETISATION SPEED
It only takes a few seconds to load and unload the work-piece from the working position.
SEMPLICITY AND VERSATILITY
It can be used manually or be easily integrated into highly automated systems thanks to advanced electronic control.
PERFECT CLAMPING
Constant and evenly distributed force.
APPLICATION VERSATITLITY
The electropermanent system easily adapts to work-pieces of varying designs and complexity.
REDUCING COSTS
The number and the cost of specific equipment is reduced.
PRECISE PROCESSING AND BETTER USE OF THE MACHINE
Less deformation due to clamping and less equipment space.